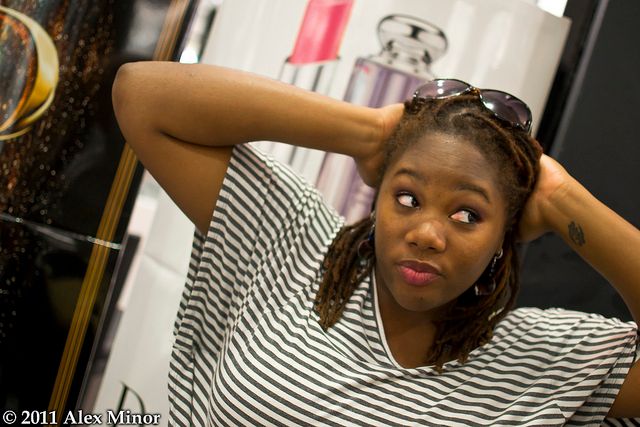 Hiiii! I know. I totally dropped off of the face of the e-planet. Just on the Loc Rocker side though. My other blog Clumps of Mascara is still alive and swinging. Every few months I go through this "thing" where I stop finding inspiration to blog about my locs. And it's not because I don't like them but…I run out of things to say. Unlike a lot of loose naturals, I don't "play" in my hair much. I wash it, twist it (or not) and leave it alone. Sometimes I'll throw a style up but nothing that I thing warrants a formal post.
I find that I'm not the only loc blogger that has this "disappearance" problem. A lot of us just stop blogging because well…what else is there to say? I hope to grab onto some inspiration in the new year. My goal is to revamp Loc Rocker and make the navigation easier. That way, whether I blog daily, weekly, or monthly, if you're looking for a product review, or pictures of how my locs looked when they were 4 months old, you will be able to find it. Easily. I will also have contributing writers that are open to blogging about their experiences, styles, products, etc.
But who knows what could happen. I'm a dreamer and visionary and Loc Rocker can only get better. I won't let the site die but at the same time, I just don't see myself blogging regularly on it. But I am open to suggestions and ideas. I would love to let you know what I think.
I WILL definitely be blogging about my 3rd year anniversary which will be coming up in a few weeks.
Love y'all,
B
Brittany@LocRocker.com